Football players recognized for district accomplishments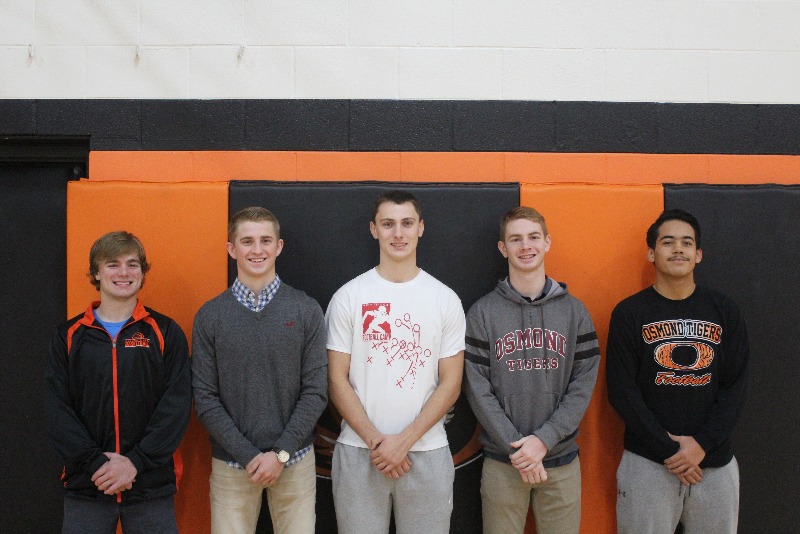 Hard work before and during the 2017 football season paid off for five Osmond Tigers student-athletes who were slated as All-District D2-5 performers.
Colton Beacom (Sr., B/OLB), Drew Krienert (Sr., E/DE), Anthony Heiman (Jr., B/OLB), Nick Reikofski (Jr., OL/LB), and Alexis Solorzano (So., OL/LB) were named to the list.
Beacom, Krienert, Heiman, and Reikofski were all first-team performers while Solorzano was recognized as Honorable Mention.
The team benefited heavily from a strong senior season by Colton Beacom, who was an anchor defensively and provided substantial offensive production.
He had 102 tackle points and interception. The interception came at a timely situation against Howells-Dodge.
Beacom ran for a team-high 631 yards on 134 attempts. He scored fifty-two of the teams 130 points including six touchdowns and five extra points.
In district competition, Beacom has great games against Stuart, Elkhorn Valley, and St. Mary's.
Against Stuart he had fourteen tackle points and a deflection. He ran for 119 yards and a touchdown on twenty-two carries.
In the a weather-shortened Elkhorn Valley game, Beacom ran for sixty yards on seven attempts including two touchdowns and two extra points.
In the regular season finale against St. Mary's, Colton had eighteen tackle points (including a tackle for a loss) and two pass deflections.
He ran for 187 yards, had four touchdowns, and ran for two extra points in the game.
"Colton was an extremely valuable piece to the puzzle for this year's team," Tigers Coach Scott Morrison said. "He could be counted on consistently to do his job and fun doing it!"
His classmate Drew Krienert had great senior season. Krienert emerged as a leader on and off the field. He stepped up and played well as a both an offensive and defensive end.
Krienert ranked third on the team with 114 tackles. He led the team in both tackle-for-loss (7), sacks (6.5), and fumble recoveries (2).
He also had an interception and was an expert in sniffing out screens. One of his biggest plays of the year came against St. Mary's on a fourth down where the Cardinals attempted a screen and Krienert was there to make a great tackle.
He posted nineteen tackle points and five tackles-for-loss in the game.
The Stuart game was also a good one for Drew. He had twenty-two tackle points and three sacks in the contest.
"Drew had a great season," Morrison said. "He was a great leader for our team and performed at a high level when we needed him the most."
Anthony Heiman proved to be a great player on the field and a great leader as well. He excelled as a back offensively, an inside and outside linebacker defensively, and a returner on special teams.
Heiman earned 146 tackles points (Team 2nd), picked off two passes, and recovered a fumble.
Offensively he scored a team-high seventy-two points. He ran for 601 yards on 102 carries (5.9 yards per carry). He also caught seven passes for seventy yards.
Throughout district play, Anthony excelled in all phases of the game. Against North Central he ran for eighty-nine yards on seven carries while catching a long pass to nearly set up a score.
Against Stuart, Heiman had a timely interception, ran a punt back for a touchdown, and scored three rushing touchdowns.
He had a fumble recovery and ran for 116 yards against Elkhorn Valley.
Heiman's performance was excellent in the St. Mary's game. He had an interception return for a touchdown, and he ran for 147 yards and a touchdown.
"Anthony proved extremely versatile throughout the season," Morrison said. "He played well everywhere we asked him to play. On top of it, he encouraged everyone at moments when things were difficult or seemed dismal."
Nick Reikofski had a great season and one of the most un-selfish players on the Tigers squad.
He sacrificed personal glory by giving up a chance to touch the ball every play and to gain personal statistics by agreeing to move from running back to offensive line.
His actions clearly helped the team as provided size and strength on the offensive line that paved the way for his teammates to gain yardage and score points.
"While Nick's offensive contribution to the team doesn't shine through with individual statistics, his contribution is clearly palatable through team totals: yards, points, etc…" Morrison said.
Defensively, Nick not only led the team in tackles (155 points), he remained one of the tigers most durable players. He typically had to take on the opponents' best blockers nearly every play.
Reikofski was a leader on the field and improved steadily as an inside backer throughout the season.
Nick also had a great game against St. Mary's where he posted twenty-six tackles points (two for a loss). He had an exceptional blitz early in the game, going untouched through the line and ranging all the way to the sideline to tackle the ball-carrier behind the line.
Against other district opponents, Nick's ability to find the ball-carrier helped the team tremendously. He had twenty-one tackle points against North Central and nineteen against Stuart.
Perhaps Nick's most unsung performances came on special teams, kickoff team in particular. HE picked up several tackles throughout the year by getting down the field quickly and by being physical.
Alexis Solorzano earned Honorable Mention. He may not be the most flashy player, but is one that every successful team needs: selfless, physical, and relentless.
He played much of the year defensively at nose guard, but found a home as an inside linebacker as the season progressed.
Alexis didn't make every tackle, but he also seemed to be in the pile or just arriving to the pile as the ball-carrier was brought down.
He finished the season with 101 tackle points, leading the team with assisted-tackle points (33).
"Alexis is always around the ball," Morrison said. "It doesn't matter where he's coming from or how far he's got to, Alexis is going to be in the mix to make a play."
Offensively, Solorzano was the team's center throughout the year. Again, this is not a glamorous position, but he did a great job of getting the center-quarterback exchange and taking care of his responsibilities.
Alexis did a great job as a kicker. He made the ball difficult to handle for opponents kickoff return teams to handle, paving the way for a kickoff team that did not give up a return for a touchdown.
Alexis also served as a long-snapper at times during the season.
Other players earned recognition for outstanding play in the district. Bloomfield earned six; North Central had five; Stuart finished with three; St. Mary's had two, and Elkhorn Valley had one.
Bloomfield's players include Michael Castenada, Trenton Holz, Quinten Moles, Jared Hornback, Braston Gieselman, and Mitchell Mackaprang.
They also had Reece McFarland, Jackson Eisenhauer, Will Fehringer, and Braden Eisenhauer as Honorable Mention.
North Central's All-District recipients were Colton Munger, Jakob Heerten, Griffin Smith, Walker Shaw, and Tristan Tarrel.
Their Honorable Mention players were Sage Miller, Whitten Giles, Charlie Gale, Trace Ebery, and Andrew Walton.
Stuart's three players included Ethan Sattler, Wade Paxton, and Wyatt Paxton.
St. Mary's had Grady Semin and Taylan Reiser selected as their All-District players. Grant Winkelbauer was named Honorable Mention.
Josh McFarland selected as All-District from Elkhorn Valley. Preston Vondra earned Honorable Mention.