Seven Tigers earn All-District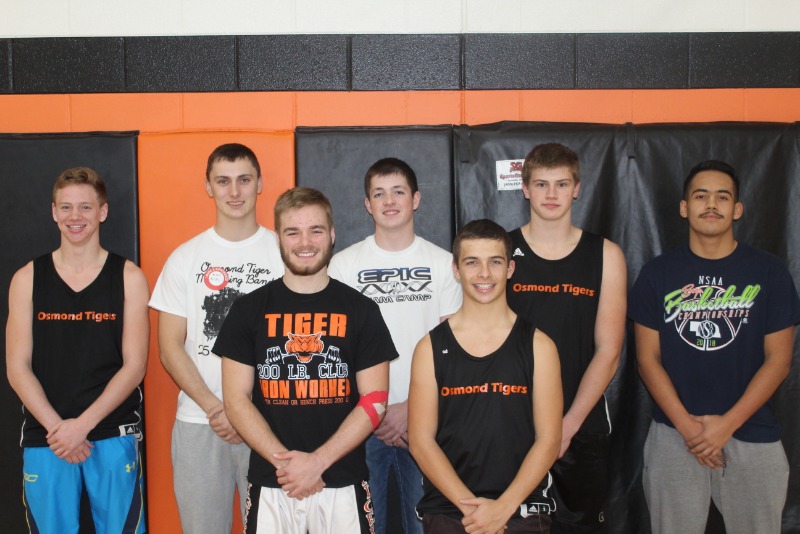 Football Players tabbed as All-District
The Osmond High School Football team had seven members selected to the All-District D2-6 teams. This included four who were recognized as 1st Team All-District and three who were named 2nd Team All-District.
First team recipients included Anthony Heiman (Sr., QB/OLB), Nick Reikofski (Sr., OL/LB), Justus Maertins (Jr., TE/S), and Alexis Solorzano (Jr., OL/NG.
Those earning second team recognition were Josh Gansebom (Jr., RB/DB), Landon Stelling (Jr., OL/DE), and Zach Huwaldt (So., TE/DE).
Heiman only proved an excellent player on the field with his performance throughout the season. However, Heiman's contribution as a leader for the team was the motor that drove the team continually forward.
"We are fortunate to have Anthony on our side," Tigers Coach Scott Morrison said. "He relished his role as a team captain and used it as opportunity to help his teammates and make his coaches' responsibilities easier."
On the field, Heiman accounted for 3,355 all-purpose yards. This included forty-seven touchdowns and twenty-nine two-point conversions. He ran for 1,698 yards and threw for another 1,304 yards.
"No one could have predicted Anthony's success on the field this year, but he is an extraordinary player, and we were lucky to have him on our team and are glad he is a part of our school."
While Heiman accumulated the offensive statistics, he wouldn't have had near the success had it not been for the offensive line.
The leader on the offensive line was senior Nick Reikofski, who transitioned to the line from playing in the backfield when he was a junior.
Nick provided the framework the offensive line to be a cohesive unit. He was an excellent communicator and attacked every play with excellent effort.
"Although we don't have many statistics for offensive linemen, there are no statistics that can quantify what Nick meant to our team this season and for the past four seasons! Nick was a great model for how to approach life in high school. He involved himself in everything, and he gave everything he was involved with his best."
Defensively, Reikofski led the team with 214 tackles, which put him among the tackling leaders in Class D2.
He was a surprisingly solid pass defender, deflecting seven pass and, yes, intercepting two passes—one of which came right before halftime in the Diller-Odell game. (He did catch a pass on a two-point conversion also.)
Justus Maertins proved an extraordinarily productive player on both offense and defense for the Tigers. He caught forty-three passes and racked up fourteen touchdowns and seven two-point conversions with 717 yards.
Defensively, Maertins anchored the secondary as the team's safety. He led the team with three interceptions and eleven pass break-ups.
"Justus had an outstanding season offensively and defensively. He proved to be an excellent teammate considering how he was a leader by example every single play!"
One of Maertins best games came against Diller-Odell. Not only did he score two touchdowns and have 161 yards receiving, but he played great defensively.
He even made a tackle and stripped the ball from the running back while he was falling to the ground.
Alexis Solorzano was a great asset on the offensive and defensive lines throughout the season.
Offensively, he proved extremely consistent not only blocking but simply getting the ball to the quarterback.
Solorzano was great defensively. He was the team's second-leading tackler (132); he led the team with nine tackles-for-a-loss. He also had four sacks, recovered three fumbles, and caused three fumbles.
"Alexis is a fun young man to work with," Morrison said. "First and foremost, he is a quality individual. On the field he is physical and keeps his emotions under control."
There were countless situations where Solorzano pursued ball-carriers down the line. He had a great game defensively at Plainview. He had twenty-five total tackles, a sack, and a forced fumble.
Josh Gansebom used his first experiences as a varsity player to have a solid season. He was the team's I back, and he was an outside linebacker.
Gansebom was the team's second-leading rusher and the second-leading receiver. He ran for 405 yards with six touchdowns and four two-point conversions. He caught twenty-five passes and had 362 yards, scoring three touchdowns and catching two two-point conversions.
He played well offensively throughout the season. He had a two long receptions at Wausa, a kickoff return for a touchdown against Wynot, and he scored four touchdowns and ran for 208 yards against Winside.
Defensively, Gansebom had a 108 tackles and eight pass deflections. He had a nice game defensively against Plainview, making some big tackles on the edge.
"Josh really emerged this year," Morrison said. "I appreciate how hard he worked in practice. It seemed like he was always the first one off the ground when we did up downs! He proved over and over that he is a tough player."
Landon Stelling had a breakout season as a starter on both the offensive and defensive lines. Though he was smaller than most of the lineman he faced, Landon consistently out-performed his counterparts.
He did an excellent job communicating on the offensive line, and he had a solid statistical season defensively. He made 117 tackles and shared tied for the team lead in sacks (6).
Stelling had two sacks and twelve tackles against Wynot and repeated the performance a week later against Laurel-Concord-Coleridge.
"Landon is a perfect example of someone who worked for everything he achieved," Morrison said. "He put in a ton of work in the weight room, transforming his body to earn a spot on the field."
Zach Huwaldt played a big role on the team again in his sophomore season. Huwaldt played as a tight end and a defensive end.
The Tigers benefited from Huwaldt's blocking, and he caught some timely passes. He scored two touchdowns and had two two-point conversions.
"Zach came up big in some big spots," Morrison said. "His biggest catch of the season came on a third down late in the Diller-Odell game. He ran a delay route and made a great catch."
On defense, Zach tied for the team lead in sacks with Stelling. He also had 145 tackles and two fumble recoveries.
Huwaldt played well defensively against Elgin Public/Pope John where he had nine tackles, a sack, a forced fumble, and a fumble recovery.
Other players receiving All-District recognition are as follows:
Humphrey-St. Francis—Trevor Pfeifer (1st Team, Jr.), Jarrett Weidner (1st Team, Sr.), Dylan Wenhoff (1st Team, Jr.), Taylor Wemhoff (1st team, 11th), Braden Freudenburg (1st Team, Sr.), Landon Kush (2nd Team, Jr.), Evan Foltz (2nd Team, Jr.), Kolbe Classen (2nd Team, Jr.), Sam McPhillips (Honorable Mention, Jr.)
Riverside—Ty Martinsen (1st Team, Sr.), Joseph Bloom (1st Team, Sr.), Michael Bernt (1st Team, So.), Trey Carraher (2nd Team, Jr.), Keaton Carraher (2nd Team, Jr.), Tredyn Prososki (2nd Team, Jr.), Neal Reardon (Honorable Mention, So.), Austin Cook (Honorable Mention, Jr.), Jeff Schmeits (Honorable Mention, So.).
Plainview—Keaton Eichberger (1st Team, Sr.), Jacob Hoffman (1st Team, Jr.), Jake Lingenfelter (2nd Team, Sr.), Nate Christensen (2nd Team , Jr.), John Schlote (2nd Team, Jr.), Lucas Hammer (Honorable Mention, So.), Collin Gale (Honorable Mention, Jr.)
Elgin Public/Pope John—Kyle Schumacher (1st Team, Sr.), Hunter Reestman (2nd Team, Sr.), Adam Dreger (2nd Team, Jr.), Conor Ramold (2nd Team, Jr.)
Winside—Michael Jensen (1st Team, Sr.), Kolby Ellis (2nd Team, Sr.), Matt Frederick (2nd Team, Jr.)