FFA Livestock Judgers headed to state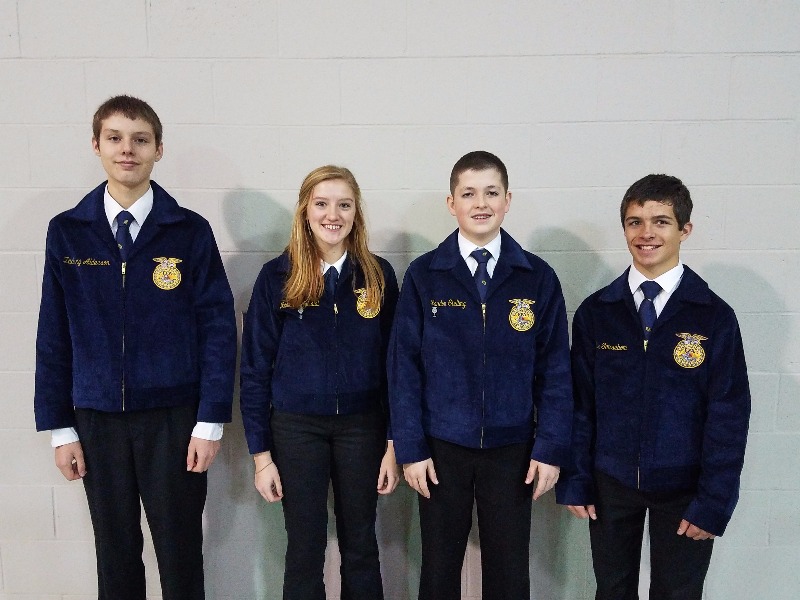 NORFOLK—On Tuesday, January 31st, 2017 five Osmond FFA members traveled to the Northeast Community College Agriculture Complex to compete in the District 4 Livestock Judging Contest.
Students were asked to judge eight different classes of livestock, including breeding ewes, breeding heifers, market lambs, market steers, two classes of market hogs, cull/keep gilts, and cull/keep heifers.
They also completed a test based on various livestock knowledge and practiced their speaking skills by giving oral reasons.
Competing in the junior division and qualifying for the State competition in April were freshmen Zach Alderson, Landon Stelling, Madeline Huwaldt, and Josh Gansebom.
Individually, Zach Alderson placed seventh out of 77 competitors and received a blue ribbon, while Landon and Madeline each earned red ribbons placing seventeenth and eighteenth respectively.
In the senior division, Alex Alderson competed well, placing ninth out of 66 competitors also earning a blue ribbon.
The state competition will be held on Friday, April 7 in Lincoln on University of Nebraska-Lincoln's East Campus.