Osmond FFA celebrates FFA Week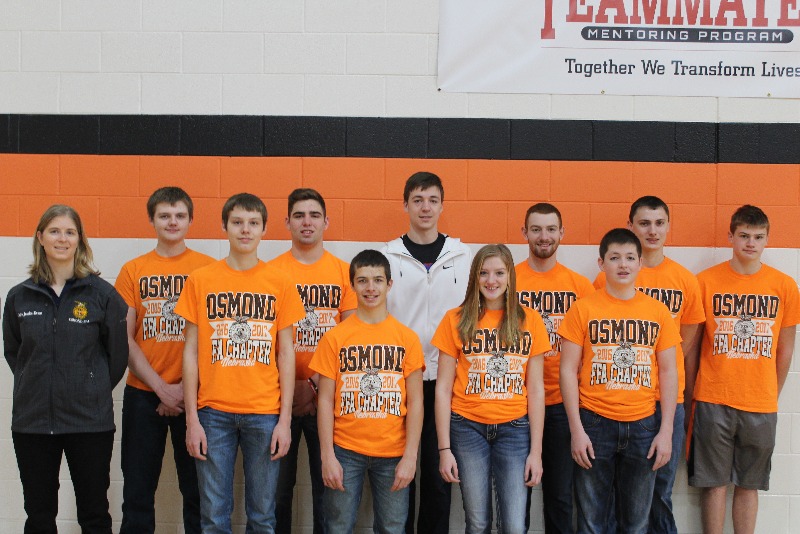 Osmond FFA Chapter observes FFA Week
The Osmond FFA Chapter had a big week from Monday, February 20 to Thursday, February 23. They celebrated FFA Week at Osmond High School.
This began on Monday with a member breakfast in the FCS Room. Several FFA members were present and enjoyed a good meal.
On Tuesday, FFA members took turns announcing agriculturally-related trivia questions to the high school.
Students were asked to email their responses to FFA sponsor Mrs. Jessica Evans. The first person to email the correct answer was given a prize.
The week continued to get better for members they took a group photo and then headed to West Pont for a soil convention.
Students were asked to wear agriculturally-related hats on Thursday. This ended up being the last activity of the week.
Students would have used Friday to drive their tractors to work; however, school was cancelled due inclement weather.
FFA Week was held in accordance with the 100th anniversary of the Smith-Hughes act (February 23, 1917), which was Congress's attempt to promote agriculture and paved the way for vocational education.
Because this is the Osmond FFA Chapter's inaugural year (after spending a year as part of the Randolph FFA), this was their first annual observance of FFA week.
The chapter includes fifteen members. There are three seniors: Bryan Manzer, Cole Moes, and Tyler vonRentzell.
Alex Alderson and Tristan Maertins are the chapter's only juniors. Nick Reikofski is the group's only sophomore.
The freshmen in the chapter are Zach Alderson, Josh Gansebom, Madeline Huwaldt, and Landon Stelling.
Zach Huwaldt, Connor Gutz, Johnson Chishiba, Zach Boyle, and Blake Bahr are the eighth grade members.
Of course, Jessica Evans is the chapter's advisor and founder.